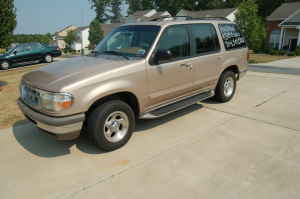 Make me an offer! 1996 Explorer XLT- see note! - $3475
Charlotte, NC • 08/21/2007
*I've lowered the price again- but this will be the final posting*

*If you have ANY interest in this car, give it a try! I need it to go this week or not at all so don't miss the chance to make your offer!*



1996 Ford Explorer XLT

$3475 obo, also will consider trade for a smaller SUV or wagon (import)

Towing package (no ball hitch)

149,600 Miles

JUST recharged A/C- NICE AND COLD! new brakes!

we also bought new rotors but found out they were still fine

(you can have the new ones off the shelf though!) safety and emissions inspection done in April

NO mechanical problems

Drives GREAT- Just too much car for me and the kids!

Call to see 704.503.5021

more than $1000 Under KBB value!

Posted by: OhSoHandy User
Located: Charlotte, NC
(No map found for this address)